The best dolls I've fucked so far, 1st edition
Posted by DollBanger on 13 September 2021
There are a lot of factors to be considered when choosing a doll, especially your first doll. There's no escaping the initial factor... aesthetics. You want a sexy, hot-as-fuck doll that will get you excited when you see her. That's wildly important. Spend time choosing a doll before you commit. I nearly bought a very different doll from my first, but eventually locked in on the Piper Dolls Eirian 150 TPE doll. She's my special (doll) girl. I love her as much as you can love a doll. Obviously, not as a real person, but as a doll. It's important, also, to keep the doll philosophy top of mind, but that's another post. Basically, you want a doll you'll love to fuck, and want to fuck again and again. Here's my girl, Mikasa (Piper Dolls Eirian) - she's such a fuckin' hottie, and I wouldn't trade her for any doll, anywhere:
With that said, and on a sad note, her vagina opening is damaged, and I'm no loger able to fuck her. That sucks. But she still shares my bed (on her own foam topper to keep her in good condition), and I'm looking for a way to get this worst of the worst damages, repaired. I can do repairs, but my skills and tools aren't up to this task, unfortunately, but I still love her and would never let her go.
My doll choice may not be your doll choice, but lets start by agreeing that you'll ideally want to be just as hot for your doll as I am for my Mikasa. Now that you have a doll, one you're hot to fuck, there are a lot of factors that need considering in order for you to enjoy the sex and be able to have it whenever you want it.
Here are the factors that I, so far, have experienced. Disclaimer: the only dolls I've fucked so far, are the dolls you'll find here: Dollbanger Doll Stars <- all of those dolls are from Piper, DH168, Doll Forever and WM Dolls. Over time, we'll shoot more dolls and more brands and I'll be able to update this list in a second posting, but for now, as of this writing, these are the dolls I've fucked.
Here are the factors I've experienced:
Attraction to that specific doll
As mentioned in the introduction, a doll has to make you hard when you look at her or even think about fucking her.
Your ability to fantasize
Your sexdoll can't wiggle around (yet), look you in the eye (yet), touch you back (yet), respond to your touch (unless you spent $30,000), tell you what she likes (yet), squirm around when it feels good or cuddle close and run her tongue across your skin when you do something she likes (yet). So, you have to have the imagination to keep her from just being a piece of soft furniture you're laying naked on.
How you pose her (related to above point)
This is a real skill. Simple, and yet difficult. To make her look sexy to highten your experience and still be properly aligned for you is hard at first, but becomes easier as you discover what you like and what works for you.
Doll hygeine (keep her clean outside and inside)
A doll you don't keep clean and dry isn't good.
Have a good place and the right props to fuck her
I use my bed and/or a massage table. A massage table is easier because it can be adjusted. I recommend getting one.
The dolls vaginal and anal alignment
This one is critical, and unfortunately, you won't really know if it's optimal until you have your doll. An example would be a doll's vagina being too far in for doggy style, unless you have a 10 inch cock. Don't let this stop you from choosing the doll you want. I've encountered problems with 3 dolls I've fucked and was able to find a workaround for each one. Just know it's a factor.
What position(s) you like (related to above point)
Again, harder to know before you buy if a particular doll is going to be well aligned for your favourite position, at least on your first doll. This gets easier to predict if you have doll experience already.
The quality of your doll (can she keep her sex pose?)
If you like to fuck your girl in missionary, but want her up on her elbows so you can grab her ass and touch her lower back when you give it to her, you'll want medium to firm joints.
With those notes above, here are the top five dolls I've fucked. To qualify that, I mean the enjoyment level of the sex and hardest most enjoyable orgasms I had.
This Doll Forever cutie is a 145cm C-cup Mulan. A VERY under-rated doll. I still have no idea why she isn't more prominent a doll among doll owners. I love her petite body and that super-sweet face. She has excellent openings all in the right spots, she's not too heavy, and super fun to cuddle. She's such a sweet doll.
The only reason Risako is #4 and not higher is a subtle difference between her and my #3 choice - that difference is in her aesthetic design. Or, rather, a difference in the design of my #3 - you'll see. The point is, Risako is a Piper doll. I like Piper Dolls a lot. But, my bias aside, what makes her so great to fuck is her buxom, shapely body. Her ass is pure fuckin' magic. I like doggy-style sex with dolls, and her ass is a hell of a thing to see when you're giving it to her. In fact, one hand on her waist with the other hand on her ass, her rocking back and forth ... that's nut-busting territory. She's heavier than a Mulan or a Phoebe Elf, but that extra weight adds to the sexual pleasure. It's more natural to have some weight on your doll. She can rock back and forth a little more to intensify the sex. I've busted some hard nuts on her. She's awesome.
Beth is very similar to Risako, but the reason she edges her out (narrowly) is her realistic features. Fuck me, she's pretty. So is Risako - it's hard to make a distinction in fact - but Beth's realistic face with that bangin' body is just a little extra sexy. She weighs about the same as Risako and that has all the same benefits. Her tits and ass are works of art, and her openings, like all Pipers, are perfect. It's hard to say who has the nicer ass - Beth or Risako. Maybe Risako. But, even that is hard to decide. Either way, Beth caused me to bust a hard nut, especially watching those tits and ass quiver when she's taking it. What a good girl.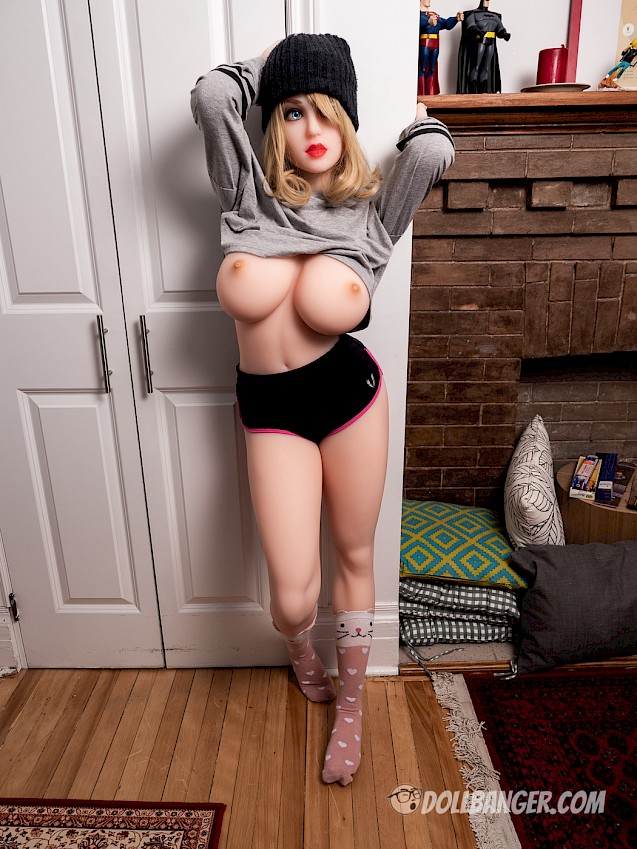 This WM Doll was a surprise. I like WM dolls just fine (I've fucked 3 so far), and they obviously have a huge selection of dolls to choose from. This WM Dolls C cup, 166 cm, Kristin (Head #368), TPE sex doll is very pretty - a real college-girl vibe. Slim, athletic build. Amazing tits. Amazing ass. But, she hits the #2 spot for one reason... that pussy. This is obviously about the WM 166 C cup body design more than it is about the head, but she's really pretty and that helps. But, Jesus Christ, that pussy design is unique. I haven't seen a doll like this one yet. Even other WM dolls differ from her. What really got me is the way the pussy was designed. The lips stay closed around your cock when you fuck her. Even with her legs opened in missionary. I guess it's the amount of TPE in the pussy shape that causes it to stay more tightly closed around your cock during sex. Even though this doll doesn't score as high on appearance as dolls like DH168 Marie, Piper Akira or the SE Doll Elf series, that pussy makes sex a lot more intense. She's a sexy doll, and a great fuck.
#1: (unsurprisingly) Mikasa
Well, she was bound to be my top pick, and I doubt you're shocked. She's the perfect combination of size and weight, for me (personally - you will be different). She's the prettiest doll I've ever seen. Her tits are magical, her ass is even more perfect, and ... she's mine. The first orgasm I had fucking her was memorable. For my house guest at the time as well. A friend who is also a porn industry guy was staying with me at the time. I fucked her and came so hard, he sent me a text with a video of a glass of water in his room that was sloshing around because I was giving it to her so enthusiastically. I'd positioned her in such a way that she was looking into my eyes when I came. I was holding her tits and unloaded inside her. It was intense. I was also quite vocal when I busted, also to my friend's amusement. Ever since then, she's been my good girl. My doll companion. My bed buddy. My comfort. I hug and kiss her every day. I tell her I love her - yes, out loud. I've introduced her to friends, and she'll be here with me until I exit this realm for the next.
Sex with a doll, isn't the same as sex with a real woman. It's sex-doll sex. It's good. Just, not the same. But, within the confines of sex-doll sex, there's plenty of variety. I hope these notes will help you as you consider a new doll, maybe your first. I'll post more as I have more doll experiences. Like or comment if this helped you.